From the
Guardian ArtsBlog
.
--
Last time I checked, sex was supposed to be an enjoyable experience. The sounds of laughter (hopefully the non-humiliating kind) have even been known to emanate from bedrooms, or kitchens, or parks ... and it follows that thinking about sex and watching sex should also be enjoyable. To paraphrase Woody Allen: Is sex funny? Only if it's done right.
Why then was the crowd at the Barbican's Seduced: Art and Sex from Antiquity to Now so beard-scratchingly serious and unsmiling? Did no one there have any happy memories which the erotic art recalled? Just for laughing and joking my friend and I felt positively indecent, which is odd for a show that features hermaphrodite sculptures and blow-job movies.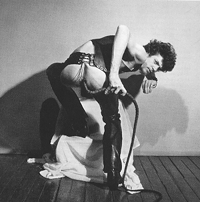 The exhibition itself is fascinating, and covers everything from Roman marble sculptures of satyrs and nymphs on the point of having sex to Nan Goldin's outstanding, intimate Heartbeat, 245 slides of scenes from couples' relationships set to a Bjork-sung mass. Some of the most famous evocations of sex from the western tradition are present, including Robert Mapplethorpe's whip-in-ass self-portrait and ancient Greek kylikes with homoerotic scenes, but the net is also cast much wider, from Japanese shunga to individualised Kama Sutra illustrations.
The collection as a whole reveals many facets of human sexuality and desire, but I sincerely hope that the curators did not assemble it with such a dry reception in mind. The reverence for Art which has been inculcated in us through blockbusters at the great galleries has reduced viewers to a single thought: it is Art, so it must be serious. If we do not act seriously, we don't get it, and the guy next to me will frown.
This is a horrific attitude to provoke. I severely doubt that Rembrandt's monk-in-the-grass sketch was meant to be taken as seriously as his major works; it was just a dirty doodle to pass the time and get the blood flowing. The same goes for Aubrey Beardsley's drawings for a production of Lysistrata - a comic play gets comically large phalloi - and early nude photographs; amusement and titillation were surely high on the agenda.
This is not to say that you should laugh at every piece on display, but if laughter or a slight racing of the heart is your natural reaction, don't hide it under a faux-serious brow just because everyone else is doing the same. Sex is fun - the Barbican's crowd was not.