From the Guardian's
travel website
.
--
The Facebook game Scrabulous, which resembles the real-world game of Scrabble in almost every detail, is under threat from
Scrabble's corporate owner Hasbro
, and an unexpected group of people will be suffering: hoteliers.
As well as the hundreds of thousands of people who play Scrabulous every day on the social network and are imminently to be deprived of their lexical joy, the owners of the Rothay Manor hotel in the Lake District will not be too pleased. They are just about to host their first Scrabble holiday, and they credit Scrabulous with stoking interest in it.
Anne-Marie O'Neill, marketing co-ordinator at the hotel, says the small Google advert for the holiday, which appears when people play Scrabulous, has brought business their way, and it would be a shame for it to stop. "We're very happy for it to be on Facebook," Anne-Marie says. "Our advert got right to the heart of the matter."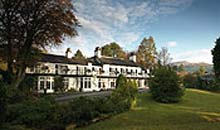 Thanks to Facebook, defiantly undigital board games are enjoying an electronic revival, and serendipitously the country retreat is offering a Scrabble holiday. The Lake District does not have to fear that its peaceful shores will be polluted by the beeping of computers, however. The five-day retreat at Rothay Manor, hard by Lake Windermere, at the start of March, will feature the more traditional Scrabble format: a board, some tiles, and probably even the famous green bag, with competitors face to face, eyeballing each other over a well-thumbed dictionary.
It would feel almost sacrilegious to go digital in one of English nature's finest landscapes, where communing with the earth – and not your earthed appliances – is the aim. Nevertheless, many of the people who attend will be aware of Scrabble's flourishing on Facebook.
Rothay Manor, near the village of Ambleside, is certainly a grand setting for epic battles across the board. Built for a Liverpool merchant in 1825, it is the sort of house Jane Austen might have had in mind when writing about the elegant families of the pre-Victorian era. There are 19 bedrooms, all individually decorated and en suite, and it is set in a large garden which is perfect for croquet. As well as this year's first Scrabble break, it offers bridge, painting and antiques holidays.
The hotel's Scrabble break offers a retreat from the digital and the daily grind but with all the pleasures of your favourite distraction. Rack 'em up.